Latest News from DLP Capital
Health, Wellness, and Longevity Event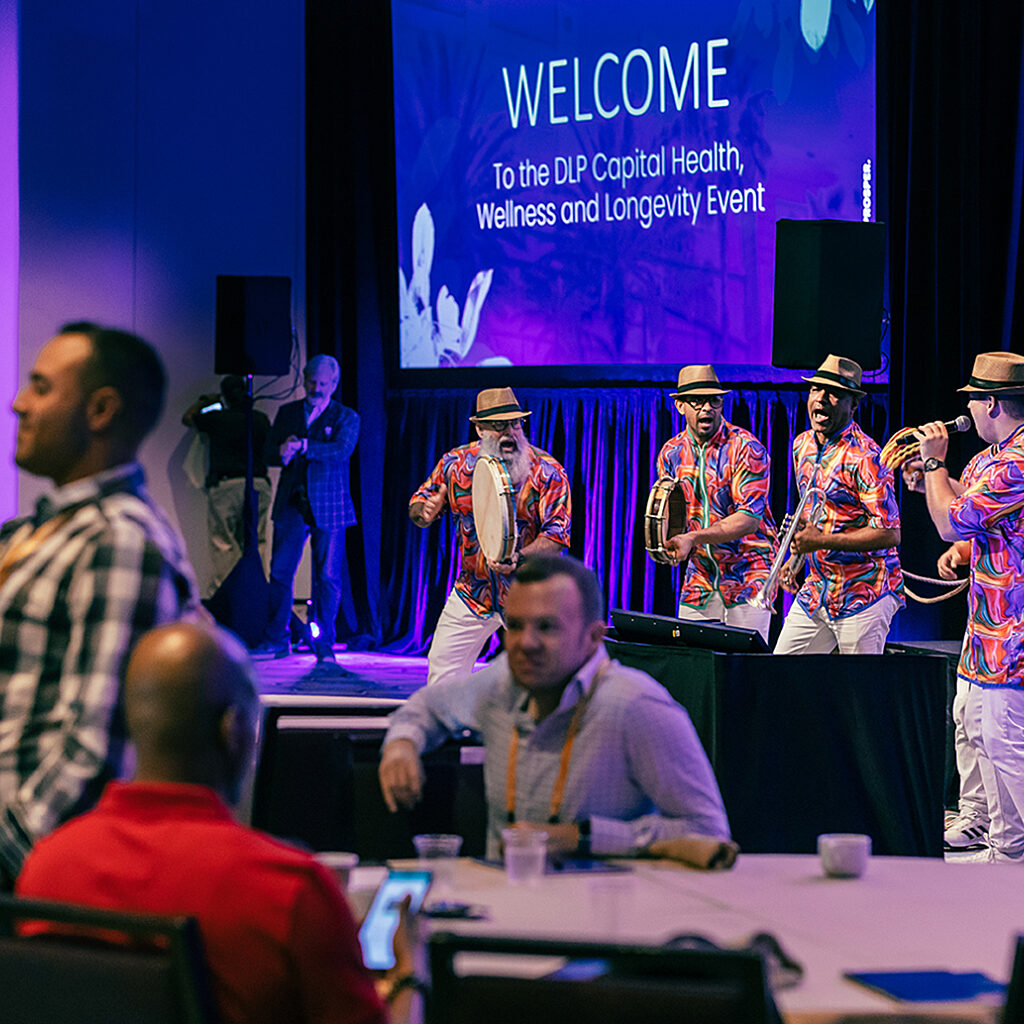 Last week, our highly-anticipated Health, Wellness, and Longevity Event finally kicked off in San Juan, Puerto Rico, and I hope those who attended had just as much fun as I did! It was a great opportunity to learn more about living a healthy and balanced life, while getting incredible insights into work that's being done in the longevity and medical fields. Attendees were able to participate in various presentations and workshops that covered a range of topics, from staying mentally healthy to maintaining a healthy diet. Thank you to everyone who participated, especially our incredibly knowledgeable and dedicated speakers:
Peter Fioretti
Dr. Vincent Giampapa
Dr. James Mault
Mark Sisson
Dr. Robert Hariri
David Stech
Patrick O'Donnell
Gary Brecka
Nick Buettner
Thomas L. Tzikas, M.D.
Lloyd Reeb
Charlie Garcia
Jim Sheils
Alex Blyth
Amanda Holmes
March 22–25: Elite & Prosperity Legacy Event in New Orleans, LA
If you missed our Puerto Rico event, I want to personally invite you to join me and the DLP Capital team in New Orleans next March for our Elite & Prosperity Legacy Event. This exclusive three-day event is designed to help you develop a legacy that will last for generations. From March 23-25, we're going to focus on building successful futures through impactful speakers and workshops. Space is limited so I encourage you to register soon!
Earlier this month, we broke ground on Westwood at Winter Haven, a 280-unit multifamily community in the burgeoning tourist region of Winter Haven, in central Florida. Winter Haven serves as an intermediary destination between two of Florida's largest cities, Tampa and Orlando, and is home to the largest Legoland resort in the world with over 5 million visitors annually. There is high demand for affordable rental apartments in the region, yet there are no new deliveries of product planned for the next 24 months, with the exception of Westwood at Winter Haven. The new community, expected to be ready by late 2024, further expands DLP Capital's multifamily footprint in Florida, adding to a portfolio that will total more than 2,400 units in the state, aimed at helping to alleviate the affordable housing crisis in America. Read more here.
Driven for Greatness
Driven 4 Greatness (D4G) is a DLP firm-wide meeting we've conducted for over a decade, and it all started as a book club. I was reading a book called "The 21 Irrefutable Laws of Leadership," by John Maxwell, and loved it so much that I invited teammates to read it with me. This led to biweekly meetings to review another book together, and another. To date, we've reviewed more than 150 books, some of which we've read multiple times. D4G has remained a voluntary group at DLP Capital and, as we've grown, meeting membership has expanded to more than 50% of our team members. With 200 people now in attendance, we have conversations that are more engaging and diverse in their opinions than ever. Two DLP members volunteer to lead us through separate presentations and discussions on the chosen book, with the group meeting a half-hour before the usual workday begins.
This month, we read "Fierce Conversations" by Susan Scott. This book takes a deep dive into taking part in meaningful conversations not only with others, but yourself as well.
Key takeaways from Scott's book:
Having fierce conversations also means perfecting the act of listening rather than constantly thinking about the next thing you're going to say.
Encourage team members to express how they really feel rather than ignoring obvious discourse.
Understand how your emotional wake affects others. This is the aftermath of what you're said during a conversation and can have an impact on the person or people you were conversing with.
"Fierce Conversations" is a great read for:
Those in leadership positions who manage teams, regardless of size.
First-time managers.
Team members who work in an office setting who encounter challenges with addressing issues in the workplace.
Each month at DLP, we highlight one of our 10 core values.
Our core values are what define us as an organization. They are the beliefs and principles that guide our actions and decisions and shape our culture. They are the foundation of who we are and what we do. This month, we focus on Servant Leadership:
Servant Leadership
Servant leadership is a key core value of DLP Capital. It is the idea that leaders should put the needs of their followers before their own. By doing this, the leader creates an environment of trust and mutual respect. This type of leadership can help to motivate and inspire followers to achieve great things. Servant leadership is important because it builds strong relationships and creates a culture of trust and respect.
At DLP, we've always been dedicated to leadership and believe in serving others above all other priorities. We want to exemplify that our goal of leadership is to serve, and we lead to serve our fellow team members, clients, and communities.
Traditional leaders see leadership as a rank to obtain; use power and control to drive performance; measure success through output; speak; and believe it is all about them.
Servant leaders see leadership as an opportunity to serve others; share power and control to drive engagement; measure success through growth and development; listen; and understand it is not all about them.
I encourage you to self evaluate to see which side of the coin you land on. Are you a traditional leader or a servant leader?
December 1, 2022: AIIH Awards Ceremony, St. Augustine, FL
Each year, we recognize investors and real estate professionals who have made noteworthy accomplishments in their specific area of expertise. Make plans now to attend our next award ceremony on December 1st in St. Augustine, FL.
December 1, 2022: Compass Day, St. Augustine, FL
Spend the day in St Augustine with Don and several Sr Leaders at DLP, focusing on developing your compass. This will supercharge your business and can be the pivotal moment that transforms your business.
December 15, 2022: DLP Capital Dinner, Bethlehem, PA
Join us live in PA at the ArtsQuest Center at SteelStacks as we wrap up 2022, celebrate the holidays, and charge into 2023 together.
Subscribe to Don's Thoughts